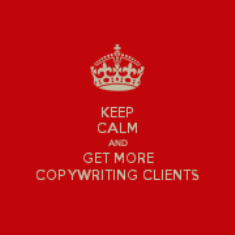 One of the most rewarding parts of my business is teaching and mentoring other copywriters...
And a while back, I asked a group of my copywriting students what their biggest challenge was in their career.
The answer? "Getting clients". By A HUGE margin.
Seems that most beginning (and intermediate) copywriters tend to hit a brick wall when it comes to marketing themselves effectively.
So I began to develop a customized marketing system to help solve this problem. And what I found was shocking, to say the least...
Amazingly enough, there really is an abundance of copywriting work out there. In fact, at the time of this writing, I found 19,755 total listings using the keyword "copywriter" on some popular jobs sites.
Yeah, that's right. Almost TWENTY THOUSAND businesses desperately looking for copywriters--RIGHT NOW.
So where are these primo gigs? How do you sort through everything to find the best one for you? And the biggest question--how do you get HIRED by these people?
Here's 3 quick tips to help...
1) Use Keywords to Weed Out the In-House Gigs: The majority of these listings will demand that you move somewhere to work in an office. And as freelancers that's about the last thing we want to do, correct?
So weed out the in house gigs by adding certain keywords to your search. These four have served me very well in the past:
telecommute
offsite
remote
virtual
When you add those to a search, it cancels out the thousands of other copywriter listings that are for in-house gigs only, helping you save a ton of time and effort and target your prospects more effectively.
2) Don't Stress About Qualifications: This one drives me NUTS. I'll pass along a great job lead to one of my students and the first thing they say is "I don't have this degree or that level of experience." To which I reply, WHO CARES!
Here's the thing--you and I both know that being a good copywriter doesn't necessarily mean having a degree or loads of experience. I've seen newbie copywriters who can write circles around established pros, and experienced copywriters with degrees lining their walls who couldn't write their way out of a paper bag.
The only thing that matters is "can you write well, get a decent ROI, and hit a deadline?" They don't care if it's a Harvard graduate or a monkey with a Speak and Spell. Anything else is baloney.
So if you see a job you want, skip the long list of qualifications and just go for it. You'll be surprised how easily all of those must-have qualifications will fall away after they see a few samples of your stuff.
3) Avoid the Bid-for-Hire Sites: I know I'll get flamed for this, but I don't care...
If there's one thing that infuriates me, it's seeing talented copywriters writing for pennies on these bid-for-hire sites. I can't believe the amount of work they're doing for the rock-bottom fees they agreed to.
Look, if you take anything away from this article, please let it be this...
You have a significant value in the marketplace. You have a talent and an ability that few others have.
So why are you leasing it out for next to nothing?
Because those people that hire you are going to make thousands, if not TEN of thousands or even HUNDREDS of thousands of dollars from the copy you write. Doesn't it make sense that you should be compensated fairly for it?
Yeah, I know it's relatively easy pickings. And I know there's a lot of work to be had. But think of it this way...
When you're looking for someone to date, would you rather just choose any ol' Tom, Dick, or Harry (or Tina, Vickie, or Mary) that came along--regardless of how they looked, acted, treated you, etc...
..or would you rather wait for the RIGHT one? The one that's going to treat like you deserve...and respect you...and value who you are and what you do?
When you look at it that way, makes a little more sense. Doesn't it?
So when you're searching for copywriting gigs, keep these 3 things in mind and you'll be miles ahead of the rest of the crowd--I guarantee it!
And if you want instant access to my top 10 places to find great copywriting jobs (and 3 to avoid like the PLAGUE), then check out www.GetCopywritingClients right now.